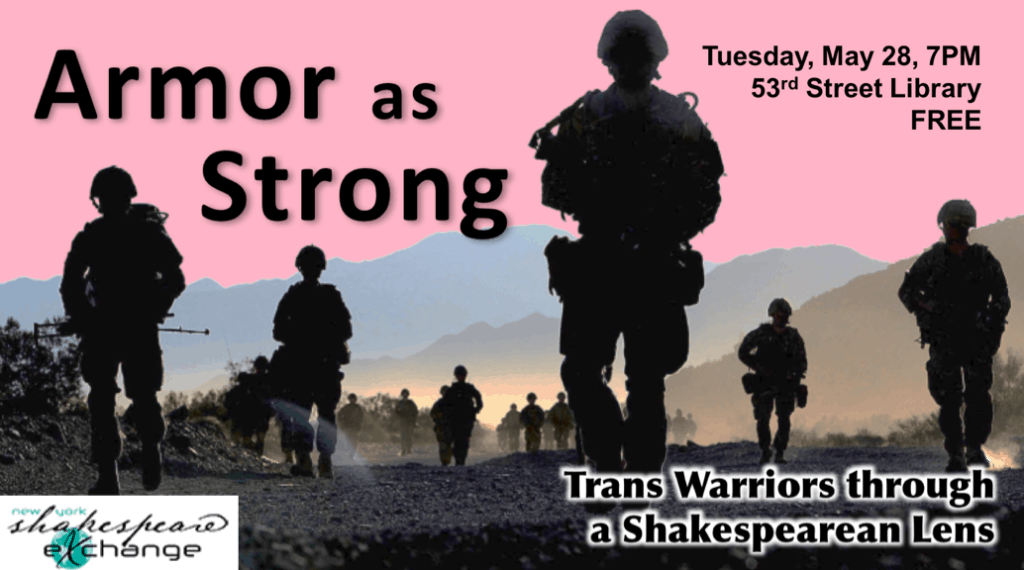 Guest moderator Hannah Simpson (she/her) guides us through the latest installment of our Freestyle Labs! Coming on the heels of Memorial Day and right before the start of Pride Month, ARMOR AS STRONG will feature a group of actors from New York's trans/gender non-conforming community performing speeches and short scenes featuring some of Shakespeare's best known soldiers.
—
Tuesday, May 28th
at the
53rd Street NYPL branch, in the Library Theater
** THIS IS A FREE EVENT **
7-9pm (doors open to audience at 6:30pm)
—
The performance will be followed by a town hall conversation about society's understanding of gender identity, and how our limitations can lead to broken and inhumane policies. What truly makes a soldier? Why are names and pronouns so vitally important? How can visibility in art be a catalyst for change?
PERFORMERS:
C Bain (he/him), Izzy Castaldi (they/them), Bowie Dunwoody (they/them), Elliot Frances Flynn (they/them), Jordan Ho (she/her/xe/xem/xyr), Dani Martineck (they/them), Teddy Qin (they/them), Marcus Xavier Stewart (they/them)
CO-CURATORS:
Cristina Lundy (she/her), Taylor Marie Rasmussen (they/them), Ross Williams (he/him)
Hannah Simpson (she/her) is a nationally-known writer, speaker and panelist on transgender issues here in NYC and beyond. Her writing has been featured on Refinery29, NBC News, HuffPost, the Advocate, Bustle, the Guardian, and other sites, and I have done television commentary as a guest on networks like MSNBC, Fox 5 News here in New York, and i24News. She has also appeared in segments on The Daily Show with Trevor Noah, and a GLAAD award-winning segment by Samantha Bee. Hannah recently started her own business selling pride gear on Etsy, and besides doing writing and speaking, she volunteers in disaster response with the American Red Cross. She has deployed to hurricanes Michael, Harvey, and the California Camp Fires. Hannah was one of the original volunteer coordinators with the Trans Lifeline, where she took listening hotline calls and trained nearly a hundred trans and nonbinary volunteer operators.
This past January, Hannah was one of only two keynote speakers, for the 2019 Women's March on NYC, the other was Bronx representative Alexandria Ocasio-Cortez.